On Sunday afternoon we managed to take a ride to one of our favorite winter spots, Pocosin Lakes National Wildlife Refuge near Pantego, NC. I have been seeing photos on several Facebook groups of lots of Snow geese in this area so was hoping to find them. First we went to the large flooded impoundment to check out the Tundra swans, see there were any ducks and find out if the Sandhill cranes remained. We discovered there was still a large amount of swans, only a few Mallards along with less Shovelers and the Sandhill cranes were there but tucked away in the back of the impoundment that I could spot with my Sigma 150-600mm f/5-6.3 DG OS HSM Contemporary Lens attacked to my Canon 6D Mark II.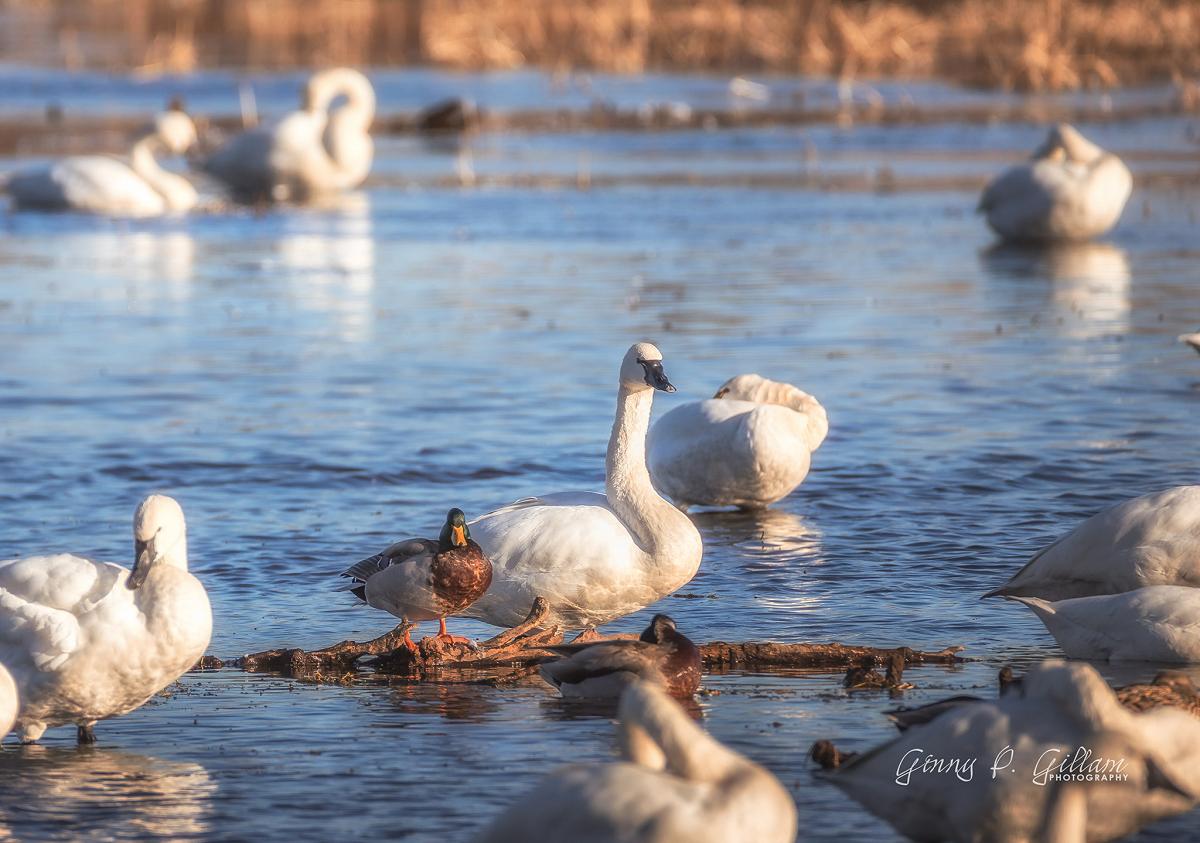 After spending an hour or so at the impoundment we headed back out on D Canal Rd. In the not too distant skies, we spotted bird flying in large groups ahead of us which we determined to be Snow geese. We had noticed upon arrival to the refuge a field of what appeared to be Tundra swans so we headed back that way. The closer we got the better we could see that the flying birds were indeed Snow geese.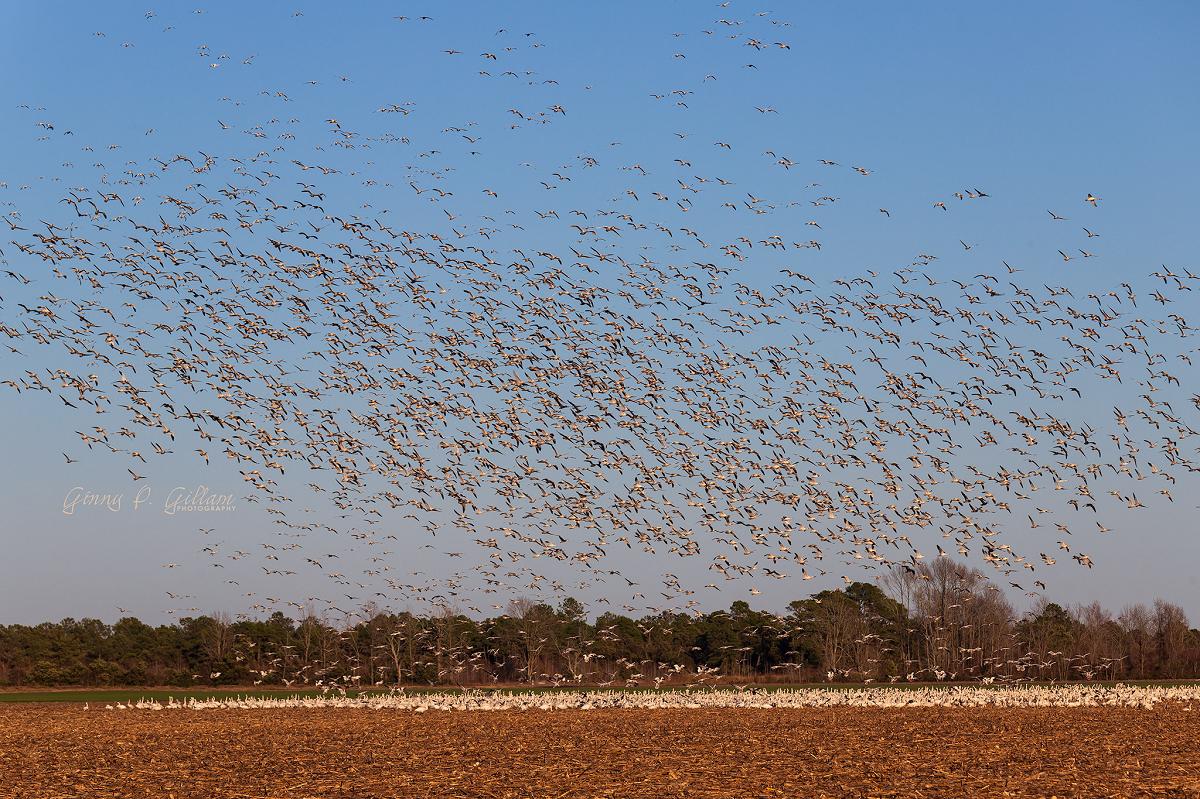 The swans were still sitting in the same field but now hundreds of Snow geese had joined in. More than likely some already there when we drove by the first time. We pulled in along side a few spectators with cameras and binoculars already watching as thousands of Snow geese flew in from the horizon in the direction of Pungo Lake. 
This was perhaps the largest amount of Snow geese I have ever seen! Being a witness to this many was truly a remarkable and memorable experience and one I'll certainly not forget. Above is the video I made from that day.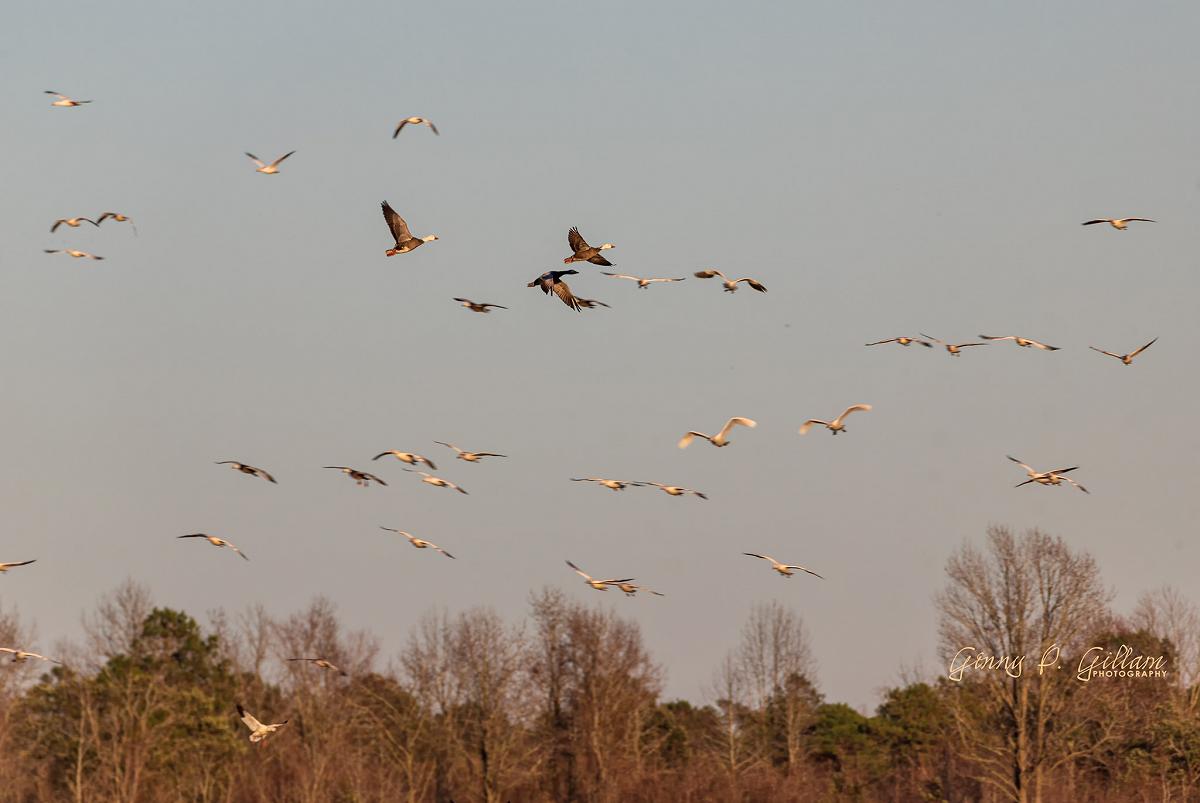 In the center of the above photo notice the three dark colored Snow geese. These are referred to as blue-morphs or blue geese, a sub-species, of the Snow Goose. This variable dark-plumaged goose is often seen in regular flocks of Snow Geese and at one time it was recognized as a goose species of its own.
As we drove off in the direction of home Snow geese were still flying in as dusk quickly crept in. Hopefully we can return again soon before they migrate North!
                                          ~~~~~~~~~~~~~~~~~~~~~~~~~~~~~~~~~~~~~~~~~~~~~~~~~~~~~~~~~~~~~~~~~~~
PS: While on the subject of migratory birds...there is currently an effort by the government to lessen protections for birds provided by the 1918 Migratory Bird Treaty Act. In the United States we are noticing and feeling the effects of a significant decline in bird populations. We need birds in our lives. They are so very important to our ecosystem. Just think, birds are FREE insect control and pollinators. Everyone should do their best to make their yards a "bird friendly" habitat.
Read here to learn more about the attack on the MBTA----->> New Rule Severely Weakens Migratory Bird Treaty Act
This is the link to voice your opinion "why" the Migratory Bird Treaty Act should NOT be severely weakened. Birds need our HELP! You can add your comments of concern and support of the over 100 year old conservation act at the link below to request that these safeguards that fundamentally protects birds remains in place. 
Migratory Birds Permits; Regulation Governing Take of Migratory Bird
 A good example of things that happen to birds that need to be prevented is the incident below.
 "Thousands of migrating snow geese died after landing in contaminated pit mine waters in Montana. Officials estimate that as many as   25,000 birds landed in the Berkeley Pit last week, and since then have been seen dropping dead in the area."