So, I raise ducks. I never intended to but it happened. 
One day at least 10 years ago a big black duck flew into the neighborhood. I saw it coming over the field before it landed in the pond. I was not sure what type of duck it was so googled it. Yep, it was a make Muscovy. He was real friendly and quickly took up residence in the 'hood'. He made the rounds visiting yards along the pond and some people named him. We called him Duk-Duk while others referred to him as Fernando, etc. 
I felt sorry for him because he had no real friends. He tried hard to be friends with the Canada geese but it wasn't the best fit because the geese come and go. Sometimes there are no geese for days so he would be all alone depending on humans for company. In the colder months he would hang with the Cormorants and geese. Duk-Duk became very tolerant of all three of our dogs but still he had no Muscovy duck friends.
Then one day we found him some duck friends in Camden, NC. We got two girls, Grace and Pixie, whom he was in love with at first sight. He practically melted when he saw them and made the craziest noises and made the craziest movements.
Now several years later there are Duk-Duk offspring but they are rapidly disappearing within the last month or so and I think I know why. Fox!
I was walking in the neighbor's backyard last week trying to find a missing duck when I almost ran into a Red Fox. Yikes! It quickly fled from site. I was not surprised as I have heard foxes yipping as well as coyotes howling across the pond but the first encounter with one on this side! 
Two days ago I put my trail cam out in the back yard and managed to capture several photos from several visits of a fox or foxes!
Now, I just don't know what to do. I can understand a fox catching the Muscovy hens but not a larger Muscovy drake that weighs 10-15 lbs and abt 25" long. My male ducks are free range so it is hard to keep them safe from hard even though they mainly stay in the yard. Some of my ducks have gone missing before sunset! 
It's a vicious cycle, life! Got to figure this out!!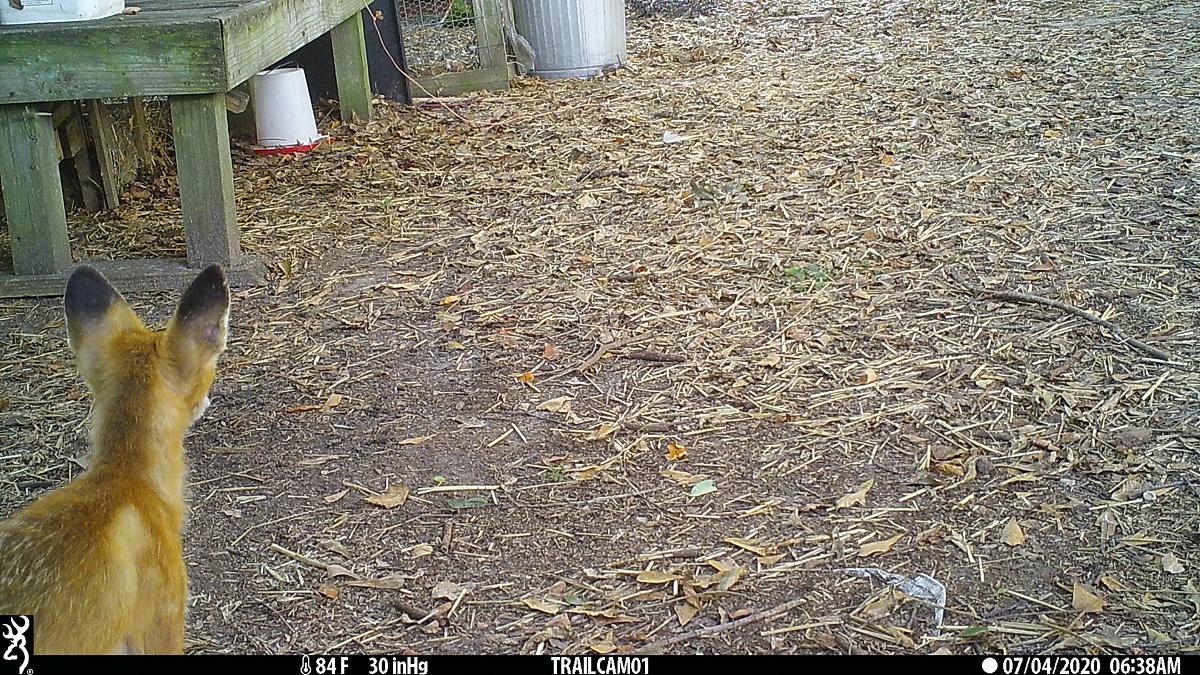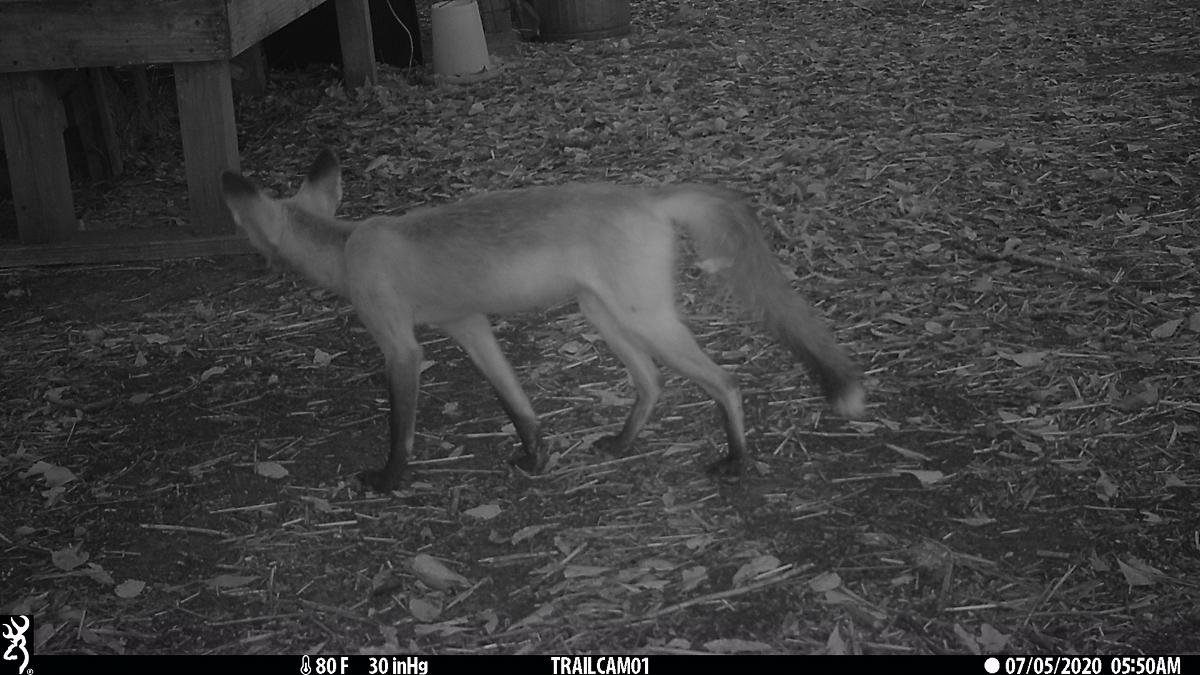 PS: Duk-Duk died several years ago. He accidently got his head stuck under some wire in a neighbor's yard where he unfortunately died. I will have to post some photos of him and his girlfriends. Sweet Pixie went missing last week so I assume the fox got her while she was foraging for food in the broad open daylight. She was at least seven years old.